Seeking Volunteers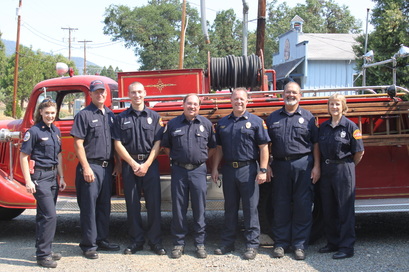 Volunteers are a huge asset to the Williams Fire District and the community we serve. The district is in urgent need of individuals interested in serving as volunteer firefighters, Emergency Medical Responders, and/or apparatus operators. You can volunteer in one or all of these capacities. If you are interested please complete the Volunteer Application and contact us at 541-846-7644. We will return your phone call and arrange to receive your application.

---
We need volunteers willing to participate as EMS personnel, structural firefighters, wildland firefighters, apparatus operators and/or fire prevention. There is also a need for those willing to help on the Support Group. You do not have to fight fire to volunteer; we have EMS only roles and volunteers who do not go interior on structure fires. Volunteers can choose from various functions in which to serve the Williams community.

Williams Fire District is seeking people interested in joining our team of dedicated members serving their community. Our volunteer numbers have declined in the last several years, and we are hoping members of our community will help. Your help is greatly needed.

If you are interested in becoming a part of our well-trained team and helping your community, please submit an application to Fire Chief Mike Kuntz or Assistant Fire Chief TaiLese Goodnough.

Applications will be available at the station. You may also complete this PDF Volunteer Application. Once filled out, please print, sign, and contact us. Please leave a message at 541-846-7644. We will contact you as soon as possible and arrange to meet with you and receive your application.

The Williams Rural Fire Protection District is an equal opportunity employer and requires volunteers to pass a background check and application process.